Getting back to your pre-baby, fighting weight can be hard when you are tending to an itty-bitty's every need — feedings, nap times, diaper changes, tummy time … repeat. That's where at-home workouts come in. Granted, mindlessly crunching it out to a DVD featuring ladies in leotards and bad '80s music is a fast pass to quits-ville. So check out these fun routines that promise serious sweat and real results.
#1 JamberriFit
Feel silly sweating it out while your kids just look on? One solution is to get them involved. JamberriFit is an online library of yoga and barre videos for moms to do WITH their kids. Categorized by age group—infant, walkers, preschool, early elementary, late elementary—the videos are short and sweet.
#2 The Carseat Workout
Developed by Seattle CrossFit trainer Jordan Holland, this workout (which he offers in his gym Xplore CrossFit) lets you use baby's carseat carrier as a large dumbbell. No, seriously. Whether you want to attempt this or not (for safety reasons, strapping baby in securely is a must!), you have to give the concept credit for being accessible and no-cost.
#3 Peloton
Spin studio junkies can get back in the studio without leaving their home. With a Peleton bike you get access to live streaming and on demand classes by top instructors. Basically, the bike has a video screen attached that you watch your instructor on while you spin and sweat bullets. Caveat: The bike itself is $1,995!
#4 The 10 Minute Workout
Survivor finalist Matty Whitmore, who is a celebrity trainer at Spectrum Athletic Clubs in L.A., developed this 10-minute/no equipment needed workout with moms in mind. A Red Tricycle tester said the routine is RIDICULOUS (in a good, I-feel-like-I-just-ran-a-marathon-and-want-to-do-it-again kind of way). Done daily, the workout tones the entire body in the time it takes to make a few bottles.
Try it: We've got the entire workout for you. Simply do the following moves in order, repeating if you still have time left.
– 10 Regular squats
– 10 Buddha squats
– 10 Side lunges
– 10 Front-back lunges
– 30-second plank
– 20 crunches (intensify by adding reps of variations. ie.: side crunches)
– 10 arm circles forward
– 10 arm circles backwards
– 20 lateral lifts (intensify by adding weights)
– 10 forward folds into downward dog
#5 Sandbag Training
Over 400 exercises (cardio, weights, and post-partum physical therapy) with one sandbag? Yes, please! Josh Henkin, the fitness guru who created the routine, knows that instead of a bunch of workout equipment, new moms could use the extra space for things like strollers and cribs and diapers. The sandbag workout is said to not only make you sweat, but also correct mom body issues like bake pain.
#6 Goji Play
Talk about making your workout fun. This device turns any piece of cardio equipment — treadmill, elliptical, spin bike — that may be sitting around gathering dust into a shiny new gaming machine with a fitness agenda. Goji Play's wireless controllers and activity sensor attach to your workout machine, and then you're ready to play a variety of gameslike Blimp Breaker, Plunder Pit, and Mars Xplorer (and track your fitness metrics at the same time).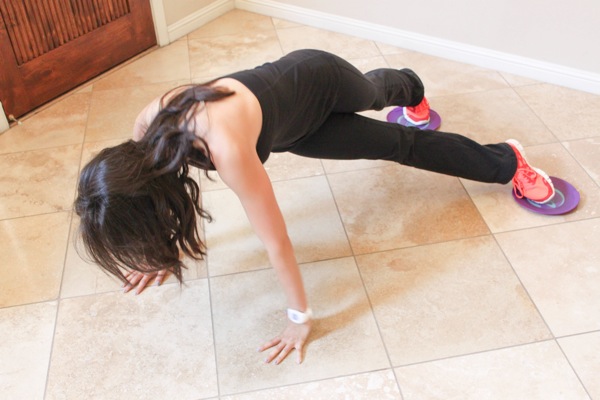 #7 Paper Plate Workout
Nope, you don't need high-tech workout equipment at home to get in a serious toning session. Trainers across the country, including Syd Hoffman who is the author of All-Day Energy, are buzzing about the paper plate workout, where the BBQ staple is placed under hands and feet to do sliding exercises on hard surface floors. Bonus: The plates don't make much noise so you can grind out during Junior's naptime.
#8 Power20 Workout App
You know all too well: New moms have very little time and even less flexibility when it comes to where and when they can workout. The Power20 app workouts are 20 minutes long, and you can watch your favorite on-demand show (hello, "New Girl") while you exercise. When you check the status of your sweat session, you'll notice that you're working your way through increasingly luxurious settings, starting at the gym and working your way onto a yacht and a mansion. One can dream. 
#9 Body Groove
If you love to dance but know that there is absolutely NO chance that you are going to be able to follow intricate choreography (you are working off of two hours of sleep, here!), try this go-with-the-flow dance workout (available on DVD). In Body Groove you do the basic moves organically, however and wherever you want. In other words, in this workout perfection is overrated.
#10 Stiletto Fitness
From carrying a baby to running up a couple flights of stairs, there isn't much that you CAN'T do in high heels. Right? Put your stamina and mama strength to the test with this workout. While the workout — which is a one way ticket to toned calves and thighs — has been offered in fitness studios for a while now, it is now starting to trickle into the at-home DVD market.
How do you get in shape at home? Tell us in the Comments section below!
— Ayren Jackson-Cannady
Photos courtesy of JamberriFit, ecooper99 via Flickr, Peloton via Facebook, vook via Flickr, Goji Play, Fitnessista, Power20 via Facebook, Body Groove via Facebook, GoldieWolf via Flickr