These creative shared bedroom ideas are perfect for families, whether it's for big kids, babies, or a combination of the two.
Anyone who lives in a home with more bodies than they have space for knows all too well that shared rooms are just part of the deal (and sometimes all that clutter). But it turns out, that designing a space that makes everyone feel cozy and comfortable (and is good-looking to boot) is possible, no matter who's sharing the bedroom. Here are six tips for tackling shared bedrooms and how you can replicate the look in your own home.
Shared Room Tip #1: Stack up the Beds
Amazon
This triple bunk takes advantage of high ceilings (its height is almost 6.5′ high so this would work best in a room with 9′ ceilings or higher) and is the ultimate space saver when it comes to shared bedroom ideas for those with more than two kids (or for those with one kid who has loads of cousins and sleepover friends). Best part? Costing less than $500—it won't break the bank. For more bunk bed inspo, check out our round-up of bunk beds that will have everyone fighting for the top bunk.
Shared Room Tip #2: Divide the Room
courtesy Kim Cornelison
Private yet together. This bedroom cleverly splits the bedroom with a privacy wall, complete with handy sconces and built-in storage. The wrap-around wallpaper helps unify the space.
Shared Room Tip #3: Get Creative with Double-Duty Furniture
If an entire wall build-out is out of the question, make double use of a headboard from both sides like this solution by Jennifer Wundrow Int. Design. It offers privacy much like the wall but is executed much less expensively. Bonus: Built-ins at the end of the bed provide extra storage space for books, a glass of water, and other bedtime must-needs.
Insider Tip: If you don't have a headboard, you can add a bookcase and use it as the divider/headboard.
Related: Coolest Seat in the House: Kid's Tables & Chairs That Fit Every Space & Style
Shared Room Tip #4: Mirror the Furniture
The graphic nature of these IKEA beds (yes! IKEA) helps make this bedroom look modern and roomy thanks to the tight color palette and minimal bedding. A battenboard wall adds a nice bespoke touch to the room without overwhelming the space.
Shared Room Tip #5: Take Advantage of High Ceilings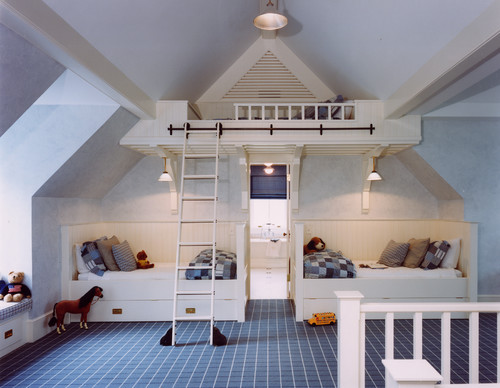 Photo by Barnes Vanze Architects, Inc.
Whether you have 9′ high ceilings and can fit a triple bunk bed in a room or have a loft-like space where a niche would work just right—utilizing otherwise wasted space, use high ceilings to your advantage when it comes to shared spaces.
Shared Room Tip #6: Make It Personal
If you are decorating a shared space, make sure to personalize each space for each kid. So whether you have a big kid and a baby sharing a room, a brother and sister, or any combination you choose, make sure that each kid's bed space reflects them—it could be a favorite color bedspread or even their initials over the bed. Whatever you do, it'll make the room feel cozier and possibly, make them love sharing a room even more.