If you've discovered the joy of cooking with an Instant Pot, then you'll know this little beauty can do just about anything, including turning grape juice into wine. One food blogger, who clearly deserves a medal, has developed an Instant Pot Wine recipe and you're going to want to stock up on juice ASAP.
What started as a joke became a cooking challenge for food blogger David Murphy, who set out to see if he could turn grapes into wine using nothing but an Instant Pot. No such recipe existed, but Murphy did plenty of research and finally hit a breakthrough.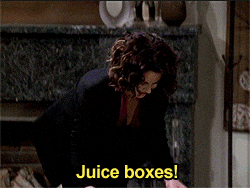 "The Instant Pot has a Yogurt function, and you can use less heat. Before you knew it, I was shopping on Amazon and running to the store to grab juice and to test out my theory… and it worked!" Murphy told Munchies.
The recipe, which Murphy shared on his site FoodnService, only calls for a few ingredients, including grape juice, sugar and red wine yeast. The process is a little complex, but nothing a seasoned Instant Pot chef can't handle.
This guy is basically Jesus https://t.co/7ptNMrdGR8

— Men's Health Mag (@MensHealthMag) March 2, 2018
The only tricky part is that it takes two full days of cooking to complete, so you'll have to rely on a different cooking method for your actual food while the wine gets made (or have a second Instant Pot handy). Oh, and you need to wait a month for the wine to properly age—but it seems totally worth the wait.
What are your go-to Instant Pot recipes? Share your favorites in the comments.
—Shahrzad Warkentin
Featured image: Instant Pot
RELATED STORIES:
Which Instant Pot Models Have Been Recalled? Some of Them Have Reportedly Melted
This Mom's Instant Pot Weight Loss Plan Helped Her Lose EIGHTY Pounds